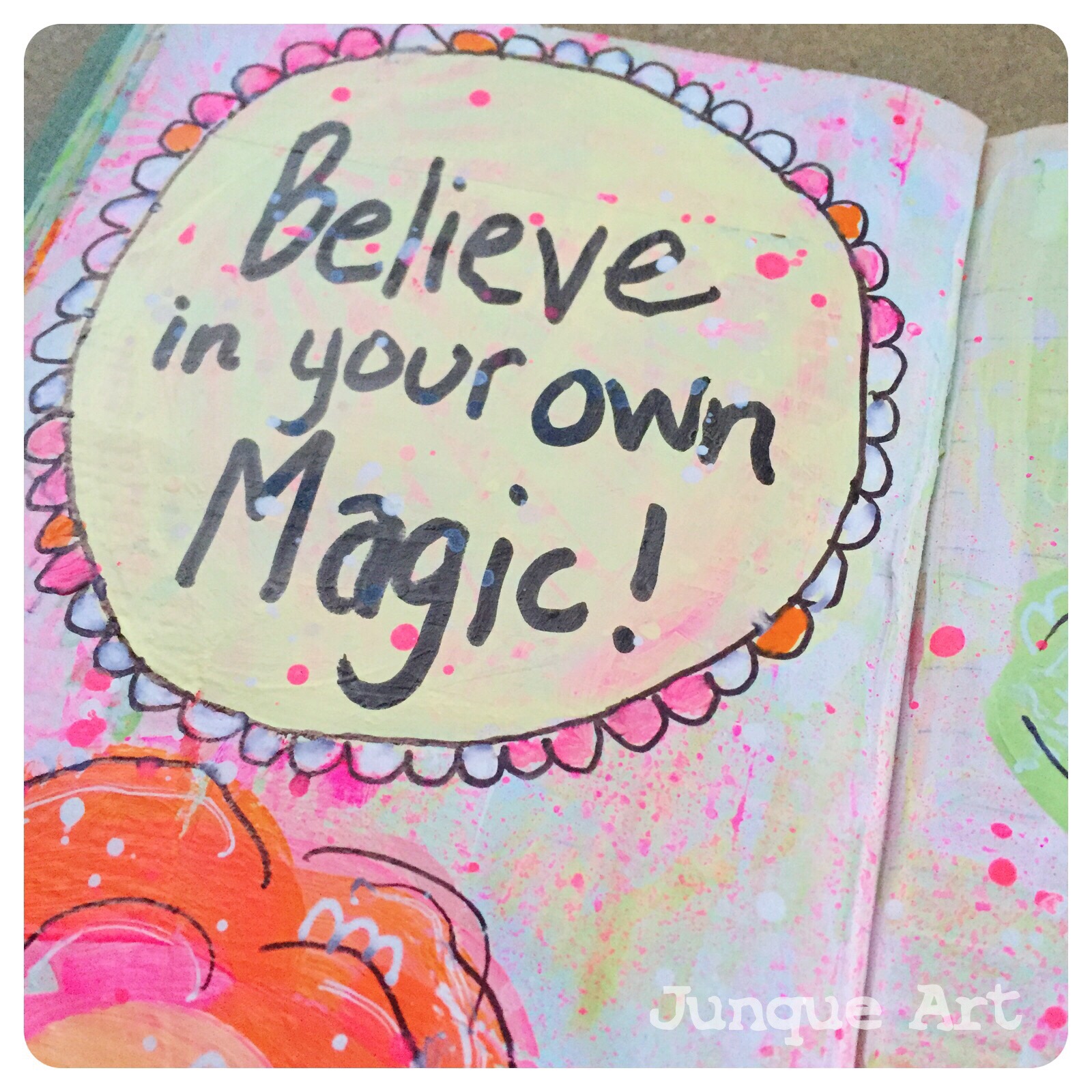 One of my favorite things to do is play in my art journal. I love that it is just that...a place to play and experiment. Often times those play sessions turn into something that just puts a smile on my face.
I recently did this art journal page live on Periscope. Over the last year or so I have really been pushing myself to work intuitively and not think too much about what I was adding to the page. Periscope has pushed me to create intuitively in a bigger way since the broadcast is live and people are watching me create. I admit it's kinda scary creating live in front of people even if they are on my phone. Who am I kidding...it's super scary!
But surprisingly, the scary aspect has really helped me push myself. As artists I think it is important to push ourselves out of our comfort zone to grow...grow as an artist and as a person.
Not only are my art journals a place to play, experiment, and grow but they also serve as a vehicle for motivation, expressing feelings, and more. My art is typically whimsical in style but sometimes underneath all the happy colorful art, there might be things that aren't so happy. My thought on this is that I get out what's bringing me down and then wash it away with beautiful colors, elements, and doodles.
A lot of times I also incorporate an inspirational quote that I want to remember. In this page I used this quote I had seen in a store.[su_quote cite="author unknown"]Belive in your own magic.[/su_quote] It really got me to thinking that it is so important for us to believe in ourselves.  We are good at believing in others and their goals and dreams but we need to give ourselves that same support.
So I challenged my live Periscope viewers to "believe in their own magic" and post it on instagram with the hashtag #psbelieve.  We all have our own creative magic so whether you are a painter, a cook, a seamstress, a photographer, a knitter, a scrapbooker and the list goes on,  I challenge you to post something on instagram that you create to share your magic with others. Or if you post on your blog be sure and leave a comment on this post with your link. The world needs your magic and I'd love to see it! If you would like to see me create more art journal pages live you can follow me on Periscope by searching @junqueart. I am also in the process of putting some of my Periscope art journal broadcasts in my new Classroom! I am super excited to get the classroom going and will start it with some free Artsy Tips and Tricks. It will open soon and you can sign up for updates here.